Turtle Top Mobility Vans
Turtle Top started manufacturing automotive products in 1962. It began with recreational vehicles and over the years has grown into a reputed provider of transportation solutions with sales and services location across the USA and Canada. We make buses or specialty vehicles designed according to the specifications or requirements of our customers. Our clientele include some of the most prestigious names in the motorcoach industry.
Turtle Top specializes in manufacturing small to mid-sized buses and specialty vehicles that are built on Chevrolet, Ford and Freightliner chassis. We serve a wide variety of customers who are looking for a bus for sale. They include organizations (both governmental and non-governmental), as well as individuals. Our product range includes buses for church, college and school. We also make shuttle bus, transit bus, charter bus, 15 passenger van, tour bus and limousine bus. Our concern for environmental deterioration caused from fossil fuels has led us to invest considerable effort into researching alternative power and fuel. We aim to set the standards of innovation in this area by which others will measure success.
Turtle top buses are used throughout the country by major hotel chains, nursing homes, hospitals, churches and many other organizations.
Turtle Top also manufactures Specialty Products which has endless possibilities. These units can be used for a wide variety of educational, medical, law enforcement, business and leisure applications.
Coach
Features:
Flexible floor plans
Customizable features
Restroom packages
Wet bar options
Large aisle Width
TV Packages
Steel roll cage with full perimeter floor
Industry-leading body and air conditioner warranty
Up to 38 passengers
Construction:
Strongest floor in the industry starts with G-channel cross members that stretch from wall to wall
Full perimeter frame completes floor to stand up to years of performance
Center aisle stiffeners consisting of reverse cap steel. C-channel prevent aisle sagging after years of operation
Seat tracks mounted on reverse cap steel C-channels have been tested and certified to exceed DOT Standards
Steel corner window gussets add perimeter sidewall strength
Fully-primed roll cage is painted before construction begins
Huber Industrial Panel® floor is secured with adhesive and mechanical fasteners for no squeaks or movement
Sidewalls and ceiling insulated by closed-cell stiff foam board
Odyssey
Features:
High quality Ford E450/GM 4500-Series chassis
Aerodynamic automotive styling
Tinted solid windows
Up to 26 passenger capacity
Low, wide enclosed entrance
Flexible floor plans, including wheelchair capability
Meets and exceeds FMVSS regulations
Qualifies for Buy America and is Altoona tested
Steel roll cage with full perimeter steel floor
5-year/100,000-mile structural warranty
4-year/50,000-mile bumper-to-bumper warranty excluding add-on components
Construction
Strongest floor in the industry starts with G-channel cross members that stretch from wall to wall
Full perimeter frame completes floor to stand up to years of performance
Center aisle stiffeners consisting of reverse cap steel. C-channel prevent aisle sagging after years of operation
Seat tracks mounted on reverse cap steel C-channels have been tested and certified to exceed DOT Standards
Steel corner window gussets add perimeter sidewall strength
Fully-primed roll cage is painted before construction begins
Huber Industrial Panel® floor is secured with adhesive and mechanical fasteners for no squeaks or movement
Sidewalls and ceiling insulated by closed-cell stiff foam board
Odyssey XL
Features:
High quality Ford F550 Chassis Cab or Freightliner M2 106 Convention Chassis
Aerodynamic automotive styling
Clear view windows
Up to 41 passenger capacity
Wide interior with double row luxury seating
Steel roll cage with full perimeter steel floor
11-gauge cross member assembly
Flexible floor plans including wheelchair capability
Meets and exceeds FMVSS regulations
CDL required
5-year/100,000-mile structural warranty
4-year/50,000-mile bumper-to-bumper warranty excluding add-on components
Construction:
Strongest floor in the industry starts with G-channel cross members that stretch from wall to wall
Full perimeter frame completes floor to stand up to years of performance
Center aisle stiffeners consisting of reverse cap steel. C-channel prevent aisle sagging after years of operation
Seat tracks mounted on reverse cap steel C-channels have been tested and certified to exceed DOT Standards
Steel corner window gussets add perimeter sidewall strength
Fully-primed roll cage is painted before construction begins
Huber Industrial Panel® floor is secured with adhesive and mechanical fasteners for no squeaks or movement
Sidewalls and ceiling insulated by closed-cell stiff foam board
Odyssey XLT
Features:
High quality Freightliner M2 106 Conventional Chassis
Aerodynamic automotive styling
Elite contoured bonded seamless solid windows
Up to 50 passenger capacity
Wide interior with double row luxury seating
Steel roll cage with full perimeter steel floor
11-gauge cross member assembly
Flexible floor plans including wheelchair capability
Meets and exceeds FMVSS regulations
CDL required
5-year/100,000-mile structural warranty
4-year/50,000-mile bumper-to-bumper warranty excluding add-on components
Construction:
Strongest floor in the industry starts with G-channel cross members that stretch from wall to wall
Full perimeter frame completes floor to stand up to years of performance
Center aisle stiffeners consisting of reverse cap steel. C-channel prevent aisle sagging after years of operation
Seat tracks mounted on reverse cap steel C-channels have been tested and certified to exceed DOT Standards
Steel corner window gussets add perimeter sidewall strength
Fully-primed roll cage is painted before construction begins
Huber Industrial Panel® floor is secured with adhesive and mechanical fasteners for no squeaks or movement
Sidewalls and ceiling insulated by closed-cell stiff foam board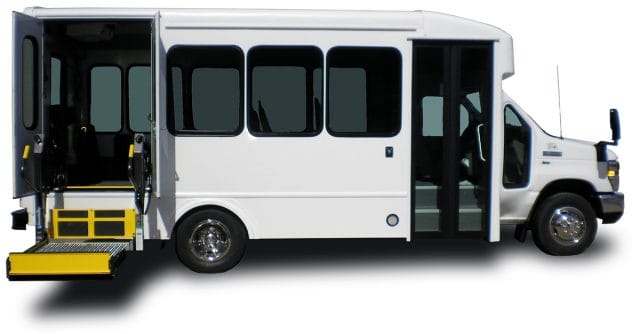 Terra Transit
Features:
Ford E-Series or Chevy G-Series Chassis
Overall vehicle length 23' – 29'
78" Interior height/ 94" wall to wall
3-Step flat floor or 2-step lowered floor standard
High gloss 1-piece composite exterior side panels with UV protection
GXL Wiring for all interior and exterior components
Interior/exterior LED lighting
Upr to 24 passengers + driver
VanTerra
Features:
High quality Ford E350-series cutaway chassis
15-Passenger alternative
Low, wide enclosed entrance
Wide wheelbase stance for roadd stability
Flexible floor plans, including wheelchair capability
Meets and exceeds FMVSS regulations
Altoona tested
Steel roll cage with full perimeter steel floor
5-year/100,000-mile structural warranty
4-year/50,000-mile bumper-to-bumper warranty excluding add-on components
Construction:
Strongest floor in the industry starts with G-channel cross members that stretch from wall to wall
Full perimeter frame completes floor to stand up to years of performance
Center aisle stiffeners consisting of reverse cap steel. C-channel prevent aisle sagging after years of operation
Seat tracks mounted on reverse cap steel C-channels have been tested and certified to exceed DOT Standards
Steel corner window gussets add perimeter sidewall strength
Fully-primed roll cage is painted before construction begins
Huber Industrial Panel® floor is secured with adhesive and mechanical fasteners for no squeaks or movement
Sidewalls and ceiling insulated by closed-cell stiff foam board