Imagine Possibilities
Rear-entry wheelchair vans are very popular among commercial and municipal customers because of their quality, durability, reputation, and most importantly their price. Our commercial wheelchair van customers know that they are getting a product that will last longer and be more affordable than other commercial wheelchair vans available on the market. Our commercial wheelchair vans are also very customizable. Our commercial customers can choose from hundreds of floor-plan and material combinations to make a product that fits their specific needs and budget.
Common rear entry mnivan commercial applications include:
Wheelchair vans
Taxis
COTvans (non-emergency medical transport)
Whether you're looking to convert your minivan, or need to purchase a new vehicle to convert, Southern Bus & Mobility can help you find the perfect fit.
All of our rear entry minivans are built ADA-compliant, meet Federal Motor Vehicle Safety Standards (FMVSS) and Canadian Motor Vehicle Safety Standards (CMVSS), and have been rigorously crash-tested. We also offer multiple seating and wheelchair securement arrangements to afford you maximum flexibility.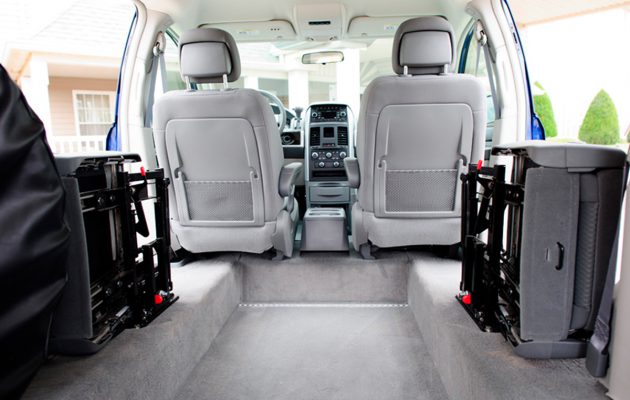 Current Available Models
The Dodge Caravan and Chrysler Pacifica are the best-selling minivans in the world, therefore, they are the cornerstones of the rear-entry van fleet. Their superb handling and ride quality, coupled with their top-of-class fuel economy and dependability, make Dodge Caravan and Chrysler Pacifica superb choices for any wheelchair van customer. Caravans and Pacifcas can be configured in either long or short-cut floor, with a variety of seating configurations to fit each individual customer's needs and preferences.
The rear-entry conversion is also available on the Toyota Sienna platform. The Sienna is the product of years of quality engineering by one of the most reliable vehicle brands in the world. Superb fuel economy, a reputation for unmatched reliability, and technologically advanced safety features put the Toyota Sienna at the top of the list for wheelchair van conversion and mobility candidates. Southern Bus & Mobility is proud to offer the Toyota Sienna in both long and short-cut models.